Logo is most important identity for any company / firm. So to make sure that our client has a perfect combination of attractive presentation and corporate Identity, we design the most attractive, professional & relevant logo for them with a clear idea and concept thereof.
What is a Graphic Designer?
Graphic design is also known as communication design. Graphic designers are visual communicators, who create visual concepts by hand or by using computer software. They communicate ideas to inspire, inform, or captivate consumers through both physical and virtual art forms that include images, words, or graphics.
Graphic designers produce the visual media that businesses use to train their employees, market to customers and brand their business. If you are a creative individual with a talent for visual elements then you may consider a career in graphic design.
Graphic designers use specialized computer software to design layouts and other graphics.
Graphic designers sometimes supervise staff members. Designers running their own firms spend a lot of time finding new clients, selecting equipment, ordering supplies, managing their businesses, and updating computer and communication systems.
The end goal of graphic designers is to make the organizations that hire them recognizable and prominent. By using a variety of media they communicate a particular idea or identity to be used in advertising and promotions. These media include fonts, shapes, colors, images, print design, photography, animation, logos, and billboards. Graphic designers often collaborate on projects with artists, multimedia animators, and other creative professionals.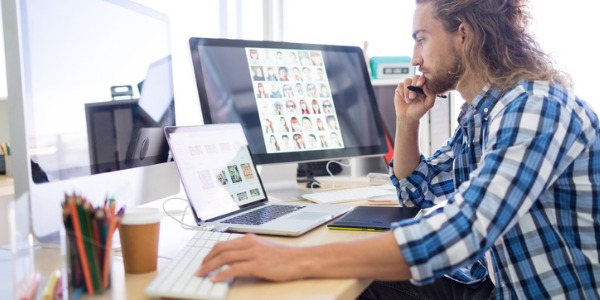 So, every graphic designer is a visual-thinking problem solver and communicator. Every graphic designer is charged with the task of solving specific communication challenges and achieving specific creative outcomes. But this does not fully answer the question, What is a graphic designer? Why? Because, depending on your role as a graphic designer, you may be:
A Creative Director You manage a creative team that creates visuals for product branding, advertising campaigns, etc.
An Art Director You manage and coordinate between production artists and illustrators to make sure projects are completed on time and to the client's satisfaction.
An Art Production Manager You manage the production aspect of art generation and creation, with a focus on improving efficiency and lowering costs.
A Package Designer You create and design packaging for marketing and/or products in terms of both design and physical construction.
A Brand Identity Developer You develop brand identities for various organizations.
A Visual Image Developer You create images and designs through 3D modeling, photography, and image editing.
A Visual Journalist Among other things, you create informational graphics known as infographics. This can be for print or digital application.
A Broadcast Designer You create visual designs and electronic media to be used in television productions.
A Logo Designer You create the visual expression of the organization's key message or value. This is also a key aspect of brand identity – though in identity design, you carry the logo and design identity forward for all branding materials.
An Interface Designer You develop graphical user interfaces and usually work for web development companies.
A Web Designer You create graphics, layouts, and pages for websites.
A Multimedia Developer You apply graphic design skills to sound and/or motion.
A Content Developer You create written, graphical, video, sound, or other multimedia content depending on your brief.
What skills are required?

The ability to design eye-catching visuals that are easily understood without a lot of thinking is essential, says multimedia designer Alan Tabish, who designs and produces training materials as a graphic designer for management and technology consultancy Booz Allen Hamilton. Experience with typography, color theory and Web design are also helpful, he says.
Flexibility is important too, adds Mendoza. If the client's vision doesn't align with yours, you have to make the necessary adjustments. And you have to be able to take criticism: Clients are vocal and sometimes indecisive. (Don't take it personally.)
And you should be familiar with design software, especially Photoshop, Illustrator and InDesign.
Are graphic designers' skills and job responsibilities the same across the board, or do they vary according to industry?
In general, the same basic skills are required—staying on top of design trends, knowing how to take direction—but there are variations, says Mendoza.
As a magazine designer, Mendoza doesn't have to come up with logos and branding as a graphic designer at an ad agency likely would.
Tabish, whose clients are federal agencies, says there are some differences in the way you approach clients and deliverables. "Government folks tend to like simple graphics that clearly explain a process," he says. A lot of the designs are similar to infographics, he explains, whereas design firms often let you take more risks.
Graphic Designing